Research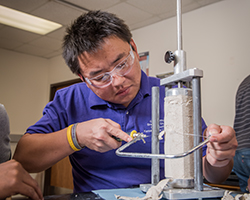 The civil engineering department is a community of learners committed to providing outstanding educational opportunities to our students. The improvement of urban infrastructure and access to clean water are among the 14 engineering grand challenges identified by the National Academy of Engineering. Students, staff and faculty in the department are engaged in a variety of state, federal and industry-supported research projects that directly address the improvement of urban infrastructure and access to clean water.
Civil and Transportation Infrastructure Engineering
Geotechnical engineering
Pavement and materials engineering
Traffic and transportation engineering
Structural engineering
Water and Environmental Engineering
Surface/groundwater hydrology
Hydraulic engineering
Environmental engineering
Research Facilities
The Department of Civil Engineering has several laboratories which can be used to perform a wide variety of graduate research projects. These include laboratories in the areas of environmental engineering, hydraulic engineering, materials testing, geotechnical engineering, structural engineering and water resources engineering.
Civil Infrastructure Systems Laboratory (CISL)
The Civil Infrastructures Systems Laboratory at K-State houses one of six accelerated testing facilities in the nation, capable of testing large-scale pavement, structural and bridge elements. To learn more, visit the CISL website.
Structural Engineering Research Laboratories
The structural engineering research facilities are located in the basements of Fiedler Hall and Engineering Hall. The lab in Fiedler Hall houses an MTS FlexTest GT Servohydraulic controller; a 30 gpm MTS Silent-Flo hydraulic pump; 10, 55, 70 and 250-kip test frames; a 400-kip Baldwin Universal Testing Machine; and three 10-kip Shimadzu AG-IC electromechanical test frames.
The structures laboratory in Engineering Hall has a 1200 square-foot strong floor with 200-kip tie-downs at a 3-ft spacing. The lab is supported by a five-ton XYZ Crane. Additional equipment housed in or adjacent to this laboratory include an MTS 60 gpm Silent-Flo hydraulic pump, a 4-Channel MTS Flextest Servohydraulic controller, an extended-height 110 kip MTS Load Frame with hydraulic grips, a 250 kip Forney testing machine, Sure-Cure concrete curing system, and a temperature-controlled moist room.
Transportation/Materials Engineering Research Laboratories
Concrete, Cement and Aggregate Materials Laboratories
K-State has a number of dedicated materials laboratories in this area including the Concrete Materials Laboratory (1,118 square feet), and the Cement and Aggregate Laboratories (979 square feet). These labs are well equipped for undergraduate and graduate instruction and also are used in research. Equipment available in the material laboratories includes Vicat apparatus, Gilmore apparatus, set of standard sieves, automatic sieve shakers (Ro-Tap and vibratory), Los Angeles abrasion tester, NAA flow test set up, sand equivalent test set up, concrete test hammer, roll-a-meter, pressure meter, slump cone, multiple concrete mixers, lab vibrator, oven for aggregate drying, and test set up for compressive and flexural strengths of concrete.


Superpave and Advanced Asphalt Laboratories
These laboratories have a combined area of 1,638 square feet. Equipment includes Marshall molds and hammers, Marshall stability tester, multiple theoretical maximum specific gravity test setup, multiple lab ovens, table-top mixers, two Superpave Gyratory compactors, two Binder ignition ovens, Dynamic Shear Rheometer, Bending Beam Rheometer, Hamburg wheel rut tester and Rolling Thin Film Oven. K-State also has a UTM-25, an AMPT and an IPC fatigue test set up for asphalt mixture research.

Concrete Hardened Properties Laboratory
This 400 square-foot laboratory contains automated concrete freeze thaw machine, concrete hardened air void polishing equipment, rapid chloride permeability equipment, freezer, automated freeze-thaw chamber, oven, and semi-adiabatic calorimeter. This laboratory is used for preparing and testing hardened concrete specimens.


Cement and Concrete Microstructure Laboratory
This 800 square-foot laboratory is used for cement and concrete hydration and microstructural studies. It contains equipment for preparing specimens for the scanning electron microscope, hardened air void microscope, isothermal calorimeter, ball mill, ovens, thermo-gravimetric analyzer and chemical shrinkage apparatus.
Geotechnical Engineering Research Laboratories
The Geotechnical Engineering Laboratories are located on the second floor of Fiedler Hall, and are equipped with conventional testing devices for the determination of water content, Atterberg limits and grain size distribution in accordance with ASTM Standards. Furthermore, the labs are equipped with consolidometers, conventional triaxial devices and a direct shear apparatus. The Geotechnical laboratories also house the K-State Erosion Function Apparatus and near surface geophysical equipment for electrical resistivity imaging, induced polarization, self-potential, and ground penetrating radar.
Environmental Engineering Research Laboratories
The Environmental Engineering Research Laboratories are located on the second floor of Fiedler Hall and are equipped with modern analytical equipment including Varian and HP gas chromatographs, Varian high performance liquid chromatographs, Dionex ion chromatograph, Varian atomic absorption spectrometer, Shimadzu total organic carbon analyzer, Horiba fluorimeter, Varian scanning UV-Vis spectrophotometer, Beckman-Coulter liquid scintillation counter, Harvey biological material oxidizer, a walk in environmental chamber, and other equipment used in routine environmental research.