Eric J. Fitzsimmons | Associate Professor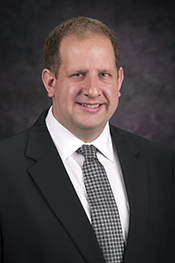 Hal and Mary Siegele Professorship in Engineering
George Yeh - Carl and Mary Ice Keystone Research Scholar
Post-Doc - University of Kansas
Ph.D. - 2011, Iowa State University
Civil Engineering (Transportation)
M.S. - 2007, Iowa State University
Civil Engineering (Transportation)
B.S. - 2005, Iowa State University
Civil Engineering
Contact Information
2138 Fiedler Hall
785-532-0889
fitzsimmons@k-state.edu
Professional Experience
Eric Fitzsimmons received his B.S., M.S. and Ph.D. degrees in civil engineering, with a transportation engineering focus, from Iowa State University. He joined the civil engineering department at Kansas State University in 2014 and is currently a member of three Transportation Research Board standing committees, as well as a panel member on multiple NCHRP and BTSCRP projects. Additionally, he is a handling editor for the Journal of the Transportation Research Board. Fitzsimmons serves as director for both the Kansas Transportation Engineering Conference and Traffic Assistance Services for Kansas (TASK), and is a member of the Kansas Local Technical Assistance Program (KLTAP) board of directors.
Research
His research focuses on various aspects of surface transportation safety and operations in both rural and urban environments. This includes projects on highway countermeasure effectiveness, working with large traffic operational datasets, developing work zone policy guidance for the state of Kansas and roadside design evaluation. In 2018 he was awarded an Early Career / New Investigator award by the U.S. Department of Justice to investigate police officer safety and wellness. Also in 2018 Fitzsimmons became director of the Rural Railroad Safety Center at Kansas State University, a Federal Railroad Administration-designated university transportation center involving four other research institutions.
Academic Highlights
Fitzsimmons has authored or co-authored 25 peer-reviewed journal articles, two U.S. patents and numerous peer-reviewed conference proceedings. During his academic career at K-State he has supervised two doctoral dissertations and six master's theses. His students have won more than $78,000 in scholarship and fellowship funding through such programs as the Dwight D. Eisenhower Transportation Fellowship Program. Fitzsimmons has been an assistant mentor for the ASCE ExCEEd program and continually provides his students with excellent instruction in the classroom. In 2019 Fitzsimmons was recognized with the Hal and Mary Siegele Professorship in Engineering (2019–2024), the Kansas State University Carl R. Ice College of Engineering Outstanding Assistant Professor Award and the Department of Civil Engineering Outstanding Faculty Award.
Recent Faculty Publications
Fitzsimmons, E.J., S.E. Tucker - Kulesza, and L.M. Shofstall. Case Study of Class III (Short Line) System
Inventory to Determine 286,000-lb. (129,844 kg) Railcar Operational Status in Kansas, USA. Journal of Rail Transport Planning and Management, 8, 158-166. doi.org/10.1016/j.jrtpm.2018.05.001.