Krishna P. Ghimire | Teaching Assistant Professor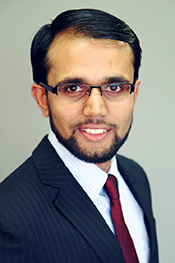 Ph.D. - 2018, University of Kansas
Civil Engineering
M.S. - 2015, University of Kansas
Civil Engineering
B.S. - 2009, Tribhuvan University, Nepal
Civil Engineering
Contact Information
2141 Fiedler Hall
krishnag@ksu.edu
Website
Professional Experience
Krishna Ghimire received his bachelor's degree in civil engineering from Tribhuvan University, Nepal, in 2009. He spent four years as a structural engineer for Nepal Electricity Authority and Rasuwa Construction Company, and as a lecturer at Pokhara University. In 2013 he came to the United States to pursue a master's degree in civil engineering from the University of Kansas and continued for his doctoral studies with an emphasis in structural engineering. After receiving his doctorate in 2018, he joined SGS Towers Inc. as a structural engineer where he worked on the analysis/design and pre-modification inspection of telecommunication towers and foundations. He became a teaching assistant professor in 2018 at Kansas State University while continuing as a consulting structural engineer for SGS Towers. He is a registered professional engineer in the state of Connecticut.
Research
Ghimire has worked extensively on the anchorage of headed reinforcing bars in concrete. The study became one of the largest of its kind with a primary objective of resolving limitations in ACI 318-14 Building Code provisions on headed-bar anchorage. From the study, new code provisions and design guidelines were developed allowing for the use of conventional and high-strength headed bars in a wide range of reinforced concrete members such as beam-column joints, column-foundation joints, and headed splices. This included those subjected to reverse cyclic loading. The findings are now incorporated into the ACI 318-19 Building Code and ASTM A970/A970M-18 Standard Specification for Headed Steel Bars for Concrete Reinforcement. His research sponsors include the Electric Power Research Institute, Concrete Reinforcing Steel Institute Education and Research Foundation, BarSplice Products Inc., Headed Reinforcement Corporation, and LENTON products from Pentair.
Academic Highlights
Ghimire has authored and/or co-authored several technical reports, peer-reviewed journal papers, and conference proceedings, which became the basis of updates on ACI 318-19 Building Code and ASTM A970/A970M-18 provisions on headed-bar anchorage. He is an engaged reviewer for peer-reviewed publications such as ACI/ASCE structural/material journals. Ghimire has a strong passion for teaching and adapts new teaching and assessment techniques to maximize student learning. In 2021, he received the Kansas State University Department of Civil Engineering Above and Beyond Instructor Award. Ghimire was selected for the George W. Bradshaw Scholarship, Bert and Dorothy Steves Memorial Scholarship, and Ruben Zadigan Graduate School of Engineering Scholarship while at the University of Kansas. Active in professional organizations, he is a member of the ACI Committee 88-S802, Teaching Methods and Educational Materials; ACI Committee 311 — Inspection of Concrete; Joint ACI-ASCE 408 committee — Bond and Development of Steel Reinforcement; ACI Committee 437 — Strength Evaluation of Existing Concrete Structures; Phi Kappa Phi; and Chi Epsilon.
Recent Faculty Publications
Ghimire, K. P., Darwin, D., Lepage, A., 2021, "Headed Bars in Beam-Column Joints Subjected to Reversed Cyclic Loading," ACI Structural Journal, V. 118, No. 3, May-June, pp. 27-33. DOI: 10.14359/51730523
Ghimire, K. P., Shao, Y., Darwin, D., and O'Reilly, M., 2019, "Conventional and High-Strength Headed Bars—Part 1: Anchorage Tests," ACI Structural Journal, V. 116, No. 3, May-June, pp. 255-264. DOI: 10.14359/51714479
Ghimire, K. P., Shao, Y., Darwin, D., and O'Reilly, M., 2019, "Conventional and High-Strength Headed Bars – Part 2: Data Analysis," ACI Structural Journal, V. 116, No. 3, May-June, pp. 265-272. DOI: 10.14359/51714480